The Spanish Monarchy engaged in many wars to maintain its dominions in Europe. On the other hand, the expulsion of the Moriscos resulted in a demographic and agricultural decline. The demographic and economic crisis was worse in Spain than in other European countries.
AGRICULTURAL CRISIS AND DEMOGRAPHIC DECLINE
About 300.000 people left Spain because of the expulsion of the Moriscos. Agriculture in Valencia and Aragón was negatively affected as there was a lack of laborers to cultivate the land.
Besides, peasants moved to the city due to the hard living conditions in the countryside while other people migrated to America.
TRADE AND CRAFT INDUSTRY CRISIS
Many European countries expanded their colonial empires and developed commercial links with the colonies. The mines were almost depleted, so the income of the Spanish Monarchy decreased.
On the other hand, the fleet system that transported precious metals from America to Spain was constantly threaten by pirates and corsairs.
Spanish crafts experienced a major decline in the 17th century because artisans produced at very uncompetitive prices.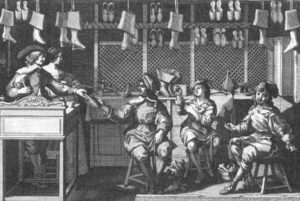 Trade with America also decreased since Spanish manufactured products were not competitive in comparison to other European countries. Then many local industries created in the colonies to supply the local demand as well as other countries established trade posts there to sell their products.
NOTES:       
POWERPOINT  PRESENTATION:     
WORKSHEETS:   
VIDEOS: